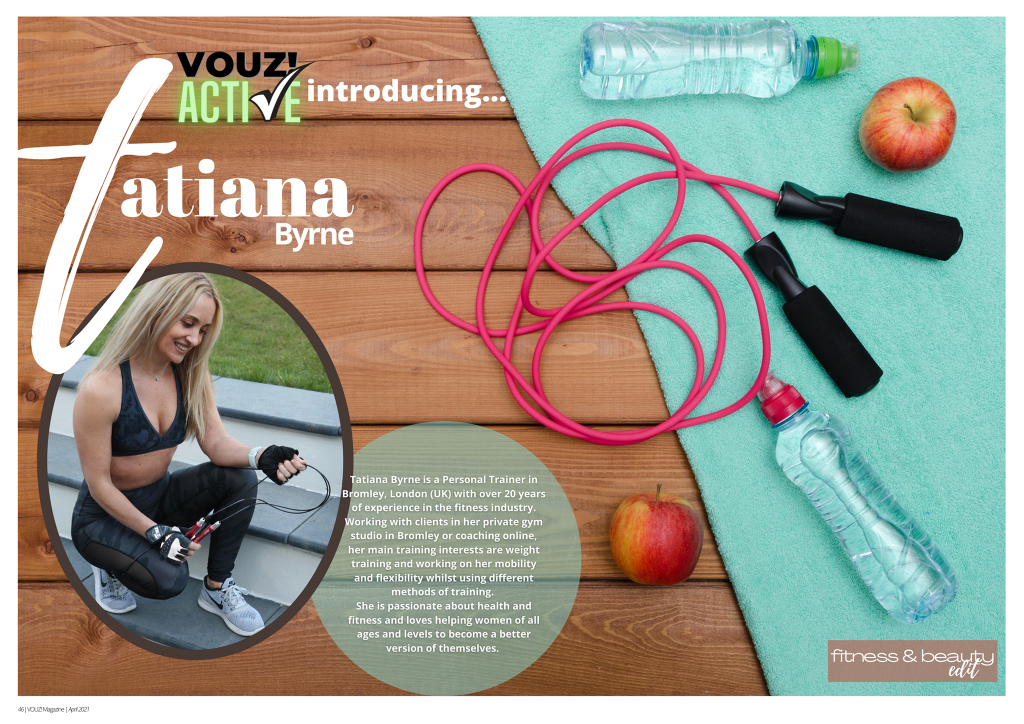 Tatiana Byrne is a Personal Trainer in Bromley, London (UK) with over 20 years of experience in the fitness industry. Working with clients in her private gym studio in Bromley or coaching online, her main training interests are weight training and working on her mobility and flexibility whilst using different methods of training. She is passionate about health and fitness and loves helping women of all ages and levels to become a better version of themselves.
So much to gain and nothing to lose by trying to skip. Remember, you will get the results you want to achieve by being patient and consistent. Fitness is a journey, not a race.

Tatiana Byrne – Vouz Active April 2021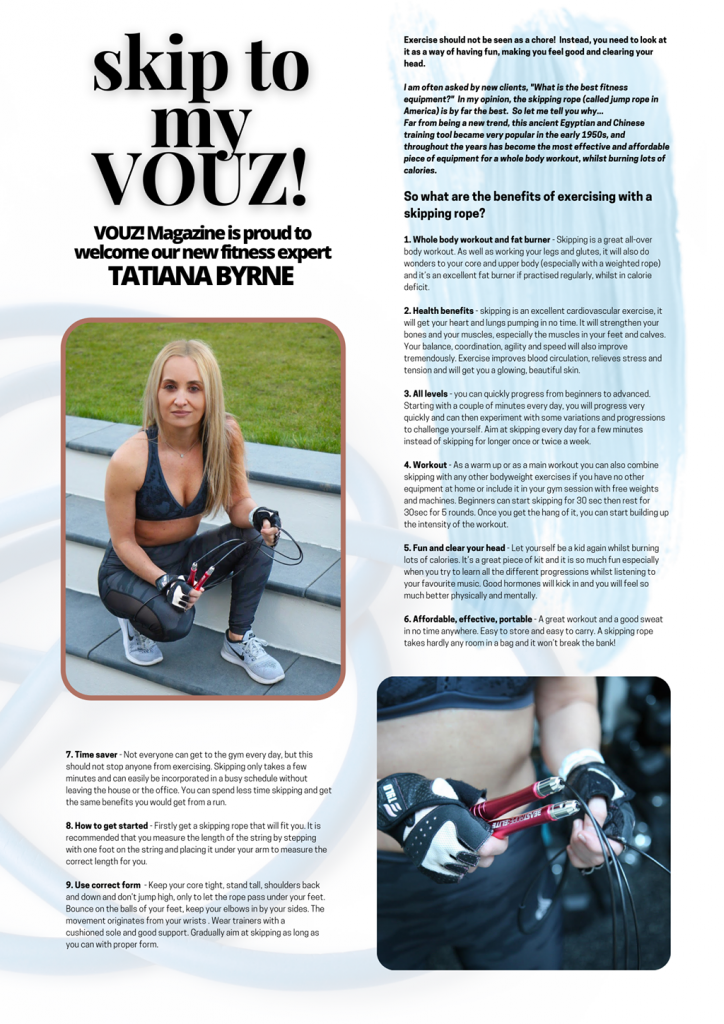 Exercise should not be seen as a chore instead you need to look at it as a way of having fun, making you feel good and clearing your head.
I am often asked, by new clients, what the best fitness equipment is? In my opinion, the skipping rope (called jump rope in America) is by far the best, so let me tell you why. Far from being a new trend, this ancient Egyptian and Chinese training tool became very popular in the early 1950s and throughout the years has become the most effective and affordable piece of equipment for a whole body workout whilst burning lots of calories.
So what are the benefits of exercising with a skipping rope?
1. Whole body workout and fat burner –
Skipping is a great all-over body workout. As well as working your legs and glutes, it will also do wonders to your core and upper body (especially with a weighted rope) and it's an excellent fat burner if practised regularly, whilst in calorie deficit.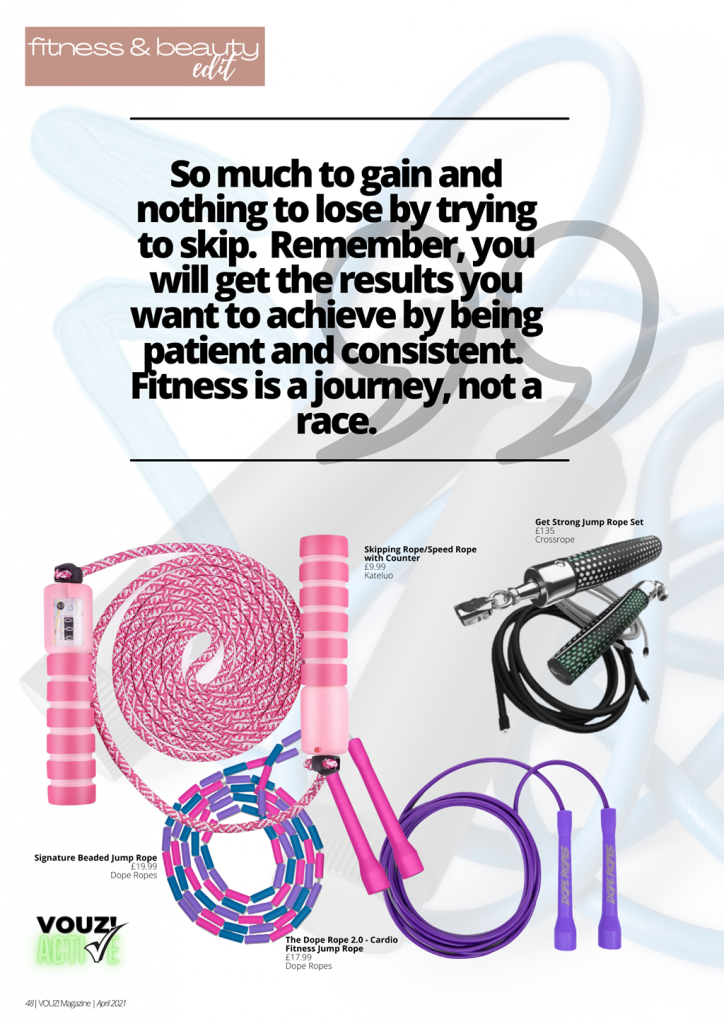 2. Health benefits –
skipping is an excellent cardiovascular exercise, it will get your heart and lungs pumping in no time. It will strengthen your bones and your muscles, especially the muscles in your feet and calves. Your balance, coordination, agility and speed will also improve tremendously. Exercise improves blood circulation, relieves stress and tension and will get you a glowing, beautiful skin.
3. All levels –
you can quickly progress from beginners to advanced. Starting with a couple of minutes every day, you will progress very quickly and can then experiment with some variations and progressions to challenge yourself. Aim at skipping every day for a few minutes instead of skipping for longer once or twice a week.
4. Workout –
As a warm up or as a main workout you can also combine skipping with any other bodyweight exercises if you have no other equipment at home or include it in your gym session with free weights and machines. Beginners can start skipping for 30 sec then rest for 30sec for 5 rounds. Once you get the hang of it, you can start building up the intensity of the workout.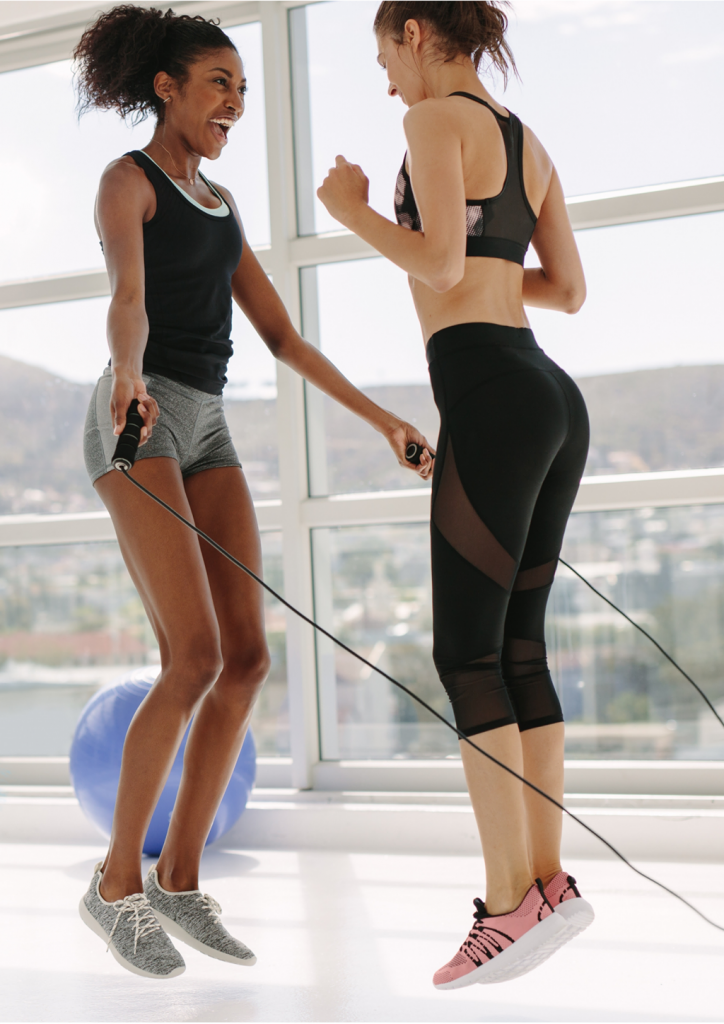 5. Fun and clear your head –
Let yourself be a kid again whilst burning lots of calories. It's a great piece of kit and it is so much fun especially when you try to learn all the different progressions whilst listening to your favourite music. Good hormones will kick in and you will feel so much better physically and mentally.
6. Affordable, effective, portable –
A great workout and a good sweat in no time anywhere. Easy to store and easy to carry. A skipping rope takes hardly any room in a bag and it won't break the bank!
7. Time saver –
Not everyone can get to the gym every day, but this should not stop anyone from exercising. Skipping only takes a few minutes and can easily be incorporated in a busy schedule without leaving the house or the office. You can spend less time skipping and get the same benefits you would get from a run.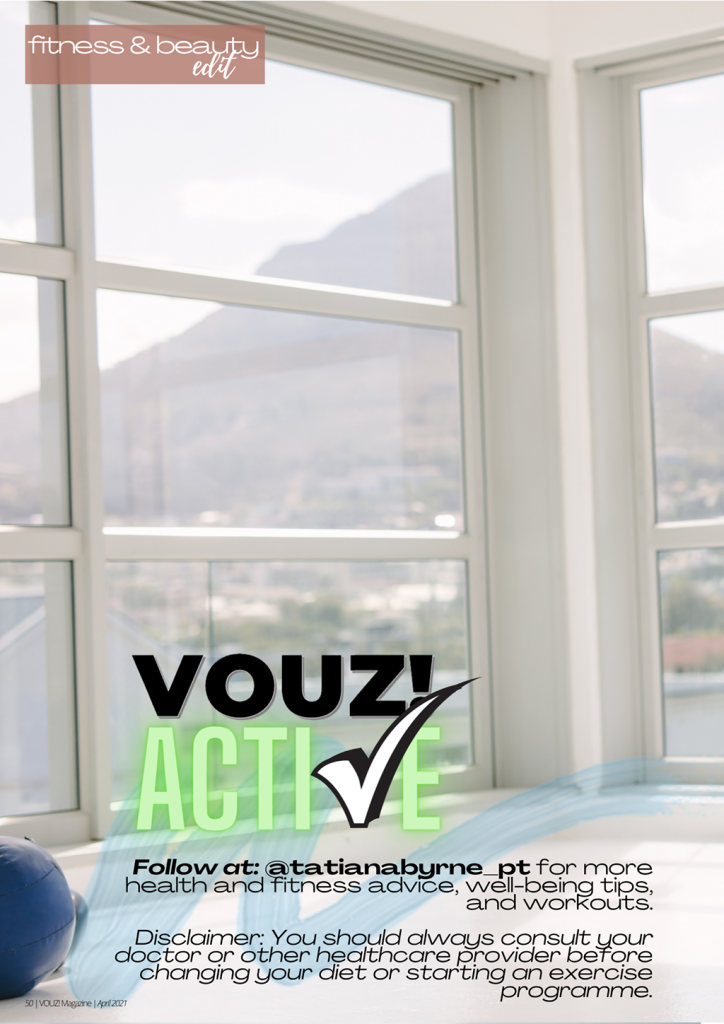 How to get started?
Firstly get a skipping rope that will fit you. It is recommended that you measure the length of the string by stepping with one foot on the string and placing it under your arm to measure the correct length for you.
Use correct form. Keep your core tight, stand tall, shoulders back and down and don't jump high, only to let the rope pass under your feet. Bounce on the balls of your feet, keep your elbows in by your sides. The movement originates from your wrists . Wear trainers with a cushioned sole and good support. Gradually aim at skipping as long as you can with proper form.
So much to gain and nothing to lose by trying to skip. Remember you will get the results you want to achieve by being patient and consistent. Fitness is a journey, not a race.
Follow me @tatianabyrne_pt for more health and fitness advice, well-being tips, and workouts.
Disclamer:
You should always consult your doctor or other healthcare provider before changing your diet or starting an exercise programme.